Hallway Rumble
A downloadable game for Windows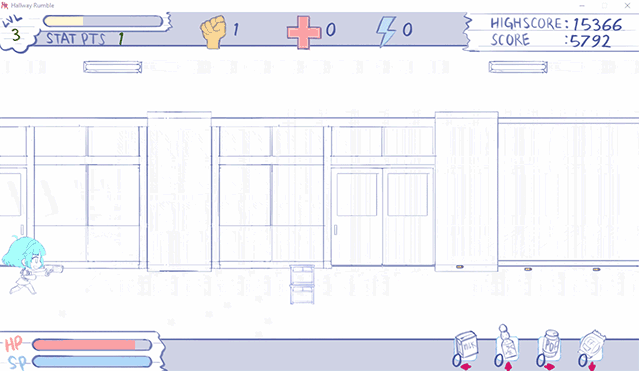 Hallway Rumble is a combination of Endless/Infinite Runner and RPG shooter. Level up, distribute your stat points, and manage your items while you run through a school hallway filled with teacher and students trying to stop you!
Changelog:
v1.5 [Post-JAM]
Increased gravity to make the jumps less floaty.
Lowered enemy projectile speed to make it easier to dodge.
Increased projectile damage to make up for it.
Buffed HLT stat to give more DEF.
Desks are now colored to make it more visible.
Desks no longer insta-kill, however they deal a lot of damage.
v1.1
Added a missing sound effect.
Fixed a bug that crashes the game if you press S after death.
Added a .zip file download for easier installation.
v1.0
Download
Click download now to get access to the following files:
Hallway Rumble v1.5.zip [Post-JAM]
9 MB
Hallway Rumble v1.5.exe [Post-JAM]
9 MB
Hallway Rumble v1.1.zip
9 MB
Hallway Rumble v1.1.exe
9 MB